To meet the demands of its growing music program, Hunterdon Academy of the Arts is very pleased to add three new teachers to its distinguished faculty: Mialtin Zhezha (Violin and Viola); Natalie Megules (Voice); and Jason Pattie (Piano and Saxophone).
Hailed by The Hartford Courant for his "expressive and warm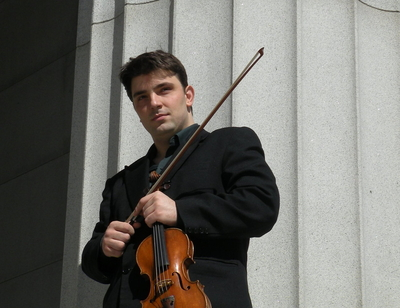 sound and faultless intonation," Albanian-born Mialtin Zhezha is an accomplished violinist and violist. Mialtin has won numerous prizes and awards at national and international competitions, including First Prizes at the Young Artist Competition in Fort Wayne; "Kenget e Tokes" and "Islam Petrela" International Violin competitions in Tirana, Albania; and at the Nicola Piccini Violin competition in Bari, Italy. Additionally, Mialtin received the "Best Classical Music Performance of the Year" award by the Downbeat Magazine. Over the past few years, he has performed across the United States in venues such as in Carnegie Hall, Merkin Hall, Miller Auditorium, and overseas in Piccini Hall in Italy, Red Hall in Kosovo, Great Britain, National Theatre and the Arts Academy Hall in Albania, Macedonia, and Greece. Request a Free Trial Violin Lesson with Mialtin!
The latest addition to our voice faculty, Natalie Megules received
her vocal training at Westminster Choir College, graduating summa cum laude as an Andrew J. Rider Scholar with a B.M. in Vocal Performance with minor concentrations in Musical Theatre and Arts Management. In 2004 and 2006, Natalie received 2nd and 3rd place, respectively, in the statewide NJNATS Vocal Competition. Upon graduating, she began a full performing schedule in New York City, appearing with companies such as the Dell'Arte Opera Ensemble, The Bronx Opera, Opera Manhattan, and New York Lyric Opera Theatre. Natalie also has deep roots in the musical theatre genre, having performed with numerous regional companies in roles ranging from costume mistress to production stage manager to pit musician. Find out what a great teacher Natalie is by taking a Free Trial Voice Lesson with her!
Joining our piano and woodwind faculty, Jason Pattie received his Bachelor of Music in Music Education from The College of New Jersey, where he graduated, cum laude, in 2009 with a major in saxophone. Jason subsequently taught at Monmouth Junction Elementary School, providing oversight and leadership for Beginning Band, Advanced Band, Jazz Band, and Third Grade Choir. Additionally, he served as piano accompanist for the school's choirs, and taught Kindergarten, and 1st and 2nd grade general music classes. In 2008-09, Jason was a staff member of the Marching Band at Hillsborough High School, conducting alto/tenor saxophone sectionals. Find out if Jason might be the right teacher for you, by taking a Free Trial Piano Lesson or Saxophone Lesson with him!