Robin S., Guitar Lessons, Flemington, NJ
Robin S. is a New Jersey based musician with more than 20 years of experience. In January of 2001, Robin began classical guitar studies with Dr. James Day at TCNJ. He currently holds a bachelor's degree in classical guitar performance, and continues to study Guitar, Violin, and Piano. An active performer, Robin currently works as a solo guitarist as well as a member of a guitar duo and as a guitarist/ bassist/vocalist for local rock and jazz bands. Robin has performed at local establishment's weddings, business functions, art galleries, and private parties. His performances include Master Classes with Cuban guitarist Iliana Matos, and guitarist/composer Andrew Zohn. Robin specializes in Classical music and arranging Popular melodies for guitar. He also teaches private and group music lessons.
From June 2007 until May of 2012, Robin worked at Hunterdon Academy of the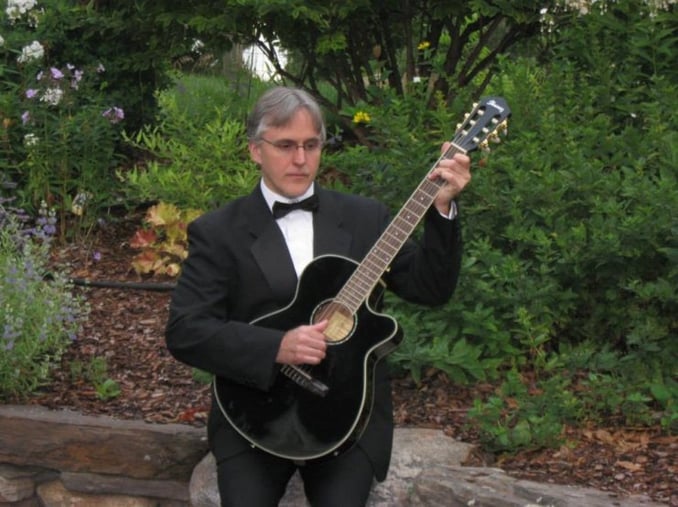 Arts teaching 8 week Rock Band "camps" where students learned music fundamentals and the essentials of teamwork in musical performance.
In January of 2009, Robin began working as a public school music teacher. From 2009 until 2017, he taught General Music, Band, and Chorus, most recently at Franklin Township School in Hunterdon County. Here is what Sophia VanEss, The Vice principal at Franklin Township had to say about Robin:
Robin is an excellent musician. He is an exceptional guitarist; with much experience in general, choral, hand bells and instrumental music. He has a kind aspect to his personality, which sets a safe learning environment where the students feel safe to try new things.
His improvement while at Franklin Township School has been significant. He has shown improvement in his keyboard skills and encouraged many students to pursue piano, guitar and a variety of band instruments. He has provided accompaniment for six concerts per year using both guitar and piano. He also provided live music for Art shows, Martin Luther King Celebrations, PTA functions and Graduations.
In 2015, Robin was asked to start a Suzuki Violin program. He spent his summers learning violin and began certification with the Suzuki Association of the Americas. His enthusiasm for instrumental music is infectious. The concerts at Franklin Township School have grown in size and musical excellence. Robin has been able to maintain the enthusiasm of our students who perform in violin ensembles, recorder ensembles, band and chorus.
In June of 2017, Robin left public school teaching to return to Hunterdon Academy of the Arts as an Instrumental Music teacher. He continues to perform throughout NJ and is currently working on various recording projects which include sharing his guitar performances with the YOUTUBE community.