In December, we're congratulating Thomas Flynn on receiving the Student of the Month Award. Tom has been with us for a couple of years and during that time made some amazing progress. We asked Tom a few questions, and here's what he had to say:

How old are you? I am 16 years old.
What do you study at Hunterdon Academy of the Arts, and who have been your teachers here? I have studied piano with Walter Aparicio for a little less than two years.
What do you like about playing the piano? I enjoy learning piano because it allows me to create some of my favorite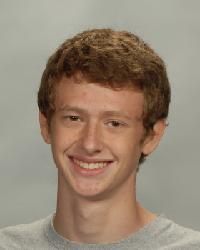 music. I never get bored of it because it is a great combination of mental, physical, and emotional tasks.
What do you like about being a student at Hunterdon Academy of the Arts? I like being a student here because my teacher is amazing and helps me to get past things in the music that are difficult.
We heard that you recently won a major competition! Please tell us more about this incredible accomplishment! Recently, I auditioned in an annual Russian music competition held by New Jersey Talented Young Musician Association and came in First Place for my section. I will be playing in Carnegie Hall later this year. It is nice for hard work to pay off!
What kind of music do you like to listen to in your free time? In my free time, I listen to many types of music but primarily classical. My favorite composer is probably Frederic Chopin.
What would you like to do after graduating high school? Any plans to pursue a music career?
After graduating high school I would like to study physics or math. I would be interested in working at a university or a place of research. I don't think I'll choose music as a career, but I know I will appreciate it all my life.
Other than your music studies, what are your favorite activities? I like hanging out with friends, going biking and reading.
What else would you like to tell us about yourself? My goal is to go to a good college, get a good job, and continue my music education. I think music is one of the most important parts of my life right now, and I am very thankful for my teacher and parents for supporting my learning.