Mialtin Z., Violin and Viola Lessons, Flemington, NJ
Hailed by The Hartford Courant for his "expressive and warm sound and faultless intonation," Albanian-born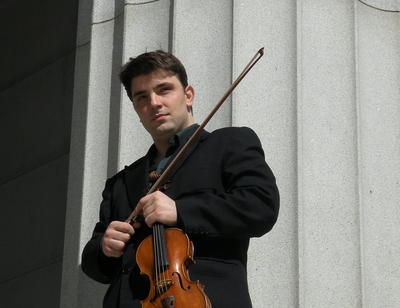 Mialtin Z. is an accomplished violinist and violist. He has performed across the United States in venues such as in Carnegie Hall, Merkin Hall, Miller Auditorium, and overseas in Piccini Hall in Italy, Red Hall in Kosovo, Great Britain, National Theatre and the Arts Academy Hall in Albania, Macedonia, and Greece. Mialtin is an avid chamber musician. He was invited by The Fontana Chamber Arts Society to premiere several works by Curtis Curtis-Smith and Carter Pane. He has also worked closely with musicians such as Pinchas Zukerman, Lawrence Dutton, Michael Tree, Robert Mann, and the Emerson and Tokyo Quartets. In 2010, he joined the Lorelei Piano Trio.

Mialtin has won numerous prizes and awards at national and international competitions. These include First Prize at the Young Artist Competition in Fort Wayne and Second Prize at the MTNA String Competition in Seattle. Furthermore, he was a two-time winner of the Western Michigan University Concerto Competition; winner of the "Best Classical Music Performance of the Year" award by the Downbeat Magazine; semifinalist at the Corpus Christi International Competition in Texas, and finalist in the Artur Balsam Duo Competition. Internationally, he won the first prize at the "Kenget e Tokes" and "Islam Petrela" International Violin competitions in Tirana, Albania, as well as first prize at the Nicola Piccini Violin competition in Bari, Italy.

Mialtin has been broadcast live on the National TV Station and Radio in Albania and on BBC Radio in England and has been featured in numerous articles by well-known newspapers in Albania and in the US. He can be heard on the Brown & Brown Label.

Mialtin received a Bachelor's of Music Magna Cum Laude from Western Michigan University, a Master of Music Degree in the highly acclaimed Pinchas Zukerman Performance Program on Full Scholarship and a Post Graduate Diploma in Viola at Manhattan School of Music. His teachers include Pinchas Zukerman, Lawrence Dutton, Patinka Kopec, Renata Knific, and Roland Xhoxhi.

As a violin and viola pedagogue, Mialtin has been a regular substitute teacher in the Pre-College Division of Manhattan School of Music since 2008. Moreover, in April 2010, he gave various violin and viola master classes at the International Academy of the Arts in Tirana, Albania. He joined the faculty of Hunterdon Academy of the Arts in 2010.
Bilingual: Mialtin is fluent in English and Albanian.