Anxiously sitting in the traffic of Newark where each light seems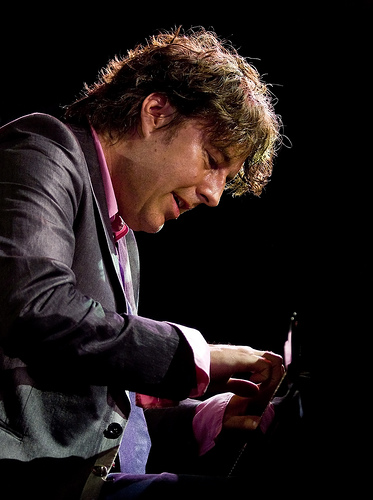 to be against us changing to red just seconds before we arrive, I have no idea how much of an impact the night ahead is going to have. We briskly walk across the street to the looming building that is the Performing Arts Center, barely hearing the police officer say, "take your time ladies." As we take our seats I can't help but notice the beauty around me. A glass sphere illuminates the four-tiered hall while the orchestra hums through their warm up. The lights flicker and the crowd settles down in their seats waiting for the night of music to begin. The symphony orchestra opens with Wagner's "Tannhaüser" Overture. With it's longing melody and intense build up, the orchestra captured the mood of the piece beautifully.
The crowd erupts with applause as Lang Lang makes his way over to the piano. The four-movement piece of the Liszt Concerto No. 1 is both mesmerizing and story-like. With each movement flowing into the next it was easy to lose yourself in the music. Not being able to take my eyes off of Lang Lang, who starts conducting whenever he has a break in the concerto, I realize that he is not only a talented musician but he has a performance aura that is admirable.
During the intermission everyone raves about the concerto. Audience members seated behind me speak of the other times they have seen Lang Lang perform and start sharing stories from his book. I start to realize that my views on this performer are rapidly changing. What I saw online in videos was a great performer but the over exaggerated movements took away from the music. What I saw in front of me at that point was a talented musician with refined movements that only enhanced the performance. With the third Beethoven concerto underway I admire the beauty of the piece and it's ever changing personality. Sinking back into my seat I take in the music that surrounds me and remember why a live performance is so fulfilling. The feeling of the performance hall and the mood that is created by the performers all equates to an inspirational and riveting experience that every musician can relate to.
Amanda Prakopcyk teaches piano lessons at Hunterdon Academy of the Arts. Take a trial piano lesson with her at no charge to you!