From the Chief Executive Officer
Welcome!

My name is Valentina Jotovic, and I am the Chief Executive Officer of Hunterdon Academy of the Arts. I am delighted that you are studying our website. My hope is that after reading the information presented here and experiencing our programs first-hand, you will share the same passion and enthusiasm that I have for this wonderful school.

As you are contemplating whether or not to enroll with us, you may wonder what and who, exactly, is steering this performing arts institution. Truth be told, successfully operating Hunterdon Academy of the Arts takes an entire team of carefully selected, well trained professional artists and administrators who share a common belief in the vision and mission of this unique school.
Among the key benefits we offer, Hunterdon Academy of the Arts embraces the "Multiple Intelligences" theory, first developed by Professor Howard Gardner at Harvard University. As we are fine-tuning our own adaptation of the Multiple Intelligences model, I am in ongoing discussions with Professor Branton Shearer at Kent State University, who is one of the leading authorities in applying Gardner's theories to various educational settings. The Multiple Intelligences concept helps us understand how you learn, and in turn allows us to customize your educational journey based on your individual learning preferences. I am confident that you will quickly see the benefits of this approach!

It requires like-minded and well-trained individuals--both faculty and staff--to maintain the special culture of Hunterdon Academy of the Arts. To guarantee consistency in delivering high-quality services to our students, much of my time is devoted to selecting the most suitable employees and then ensuring that their performance remains in harmony with our school's objectives. Since taking on my current position in 2007, I have personally interviewed and mentored hundreds of talented teachers and staff. Many of them were still college students when they joined us, while others were already college professors.

I am very proud of our students and faculty. They continue to excel at Hunterdon Academy of the Arts, challenging themselves to become well-rounded individuals, experts in their chosen fields and, most importantly, good people. If you read our student testimonials, you will notice that our families are raving about Hunterdon Academy of the Arts. I hope that you will join them soon and be as happy here as they are.

With all best wishes for an exciting journey at Hunterdon Academy of the Arts,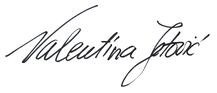 Valentina Jotovic, C.E.O.