This has been an interesting and rewarding year of teaching for me. I've been teaching music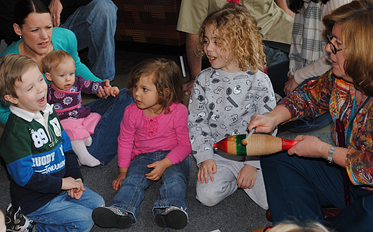 to children for 16 years and have loved every minute of it! This is my first year of teaching the Musikgarten program and I am seeing some positive changes with my students that I would like to share.
At the Family Music for Toddlers (15 months to 3 1/2 years) and Cycle of Seasons (3 to 5 years) levels, I am enjoying the children joining in with the rhythm and vocal patterns. This is the first step toward music literacy, so it's very exciting to hear how they learn to repeat the patterns given to them. They love to echo their teacher's vocal and rhythmic patters, but I know it's so much more than that! Their developing brains are holding on to this information as a stepping stone for the next level of what those patterns will mean in music. The children in the Music Makers program are continuing to explore the rhythm and vocal patterns in games, songs, and echoing during class time. I've gotten feedback from a number of parents saying that their child is able to recognize the sol-mi-do solfege pattern in music they hear outside of the classroom (very exciting!)! Moreover, I'm seeing more controlled movement in the children when dancing and playing the Orff instruments. It is important that your child has experience in controlling their large motor skills. This will allow them to be successful in controlling the fine motor skills that are so crucial in learning to play an instrument. Also, I've noticed that the children are having an easier time playing a repeated steady beat when we are doing a class ensemble. This is a direct reflection of the movement activities done in class. Perhaps the most important benefit I have noticed in my Musikgarten classes is the excitement and interest the children have in playing in musical ensembles. They especially love to play the metalophones and xylophones! This hands-on learning helps them to understand and feel music at a much deeper level.
Your child's Musikgarten education is money well spent. It is a gift that will have long-term benefits and enjoyment!
Ann Engberg, Musikgarten Teacher at Hunterdon Academy of the Arts