February 2010: We are delighted to have appointed three new music teachers: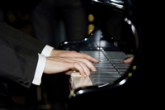 Marisa Arzillo (voice and musical theatre), Alan Rigoletto (guitar), and Richard Woo (piano). Marisa is pursuing a distinguished career as a singer and operatic stage director. She has started teaching voice for us, and will take our Musical Theatre program to the next level. Though well versed in all guitar styles, Alan Rigoletto is coming to HAA with some significant expertise on the jazz guitar, as well as a semester of guitar studies at the Hochschule für Musik und Darstellende Kunst ("Academy of Music and Performing Arts") in Frankfurt, Germany. Lastly, currently pursuing a Master's degree at Westminster Choir College, Richard Woo is majoring in Piano Pedagogy/Performance and Music Education. In addition to his professional studies, he is also on the piano faculty of Westminster Conservatory of Music.
We warmly welcome Marisa, Alan, and Richard to our music faculty. They will help us maintain our high standards of education and meet the demands of our growing lesson program!