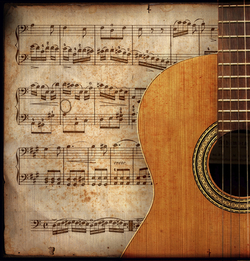 The person who inspired me to start playing music was my Father. My earliest childhood memories include music in my home. My father was a guitarist and singer in a country band and there were always musicians stopping by to rehearse or just play. Music to me was a social activity. Everyone would participate in some way. The first instrument I played was a drum but I soon moved on to the guitar. My father taught me a few chords on an acoustic guitar but I wanted to rock. He bought me my first electric guitar and amplifier (I still have the amp.) when I was twelve years old. I remember learning Eric Clapton songs and playing in a garage band in those early years, but mostly I would play along with Kiss and Led Zeppelin records and pretend I was a rock star.
In Fifth Grade my family moved to Mountain Lake New Jersey. That is where I met Dave Read. I had no idea that we would become lifelong friends. We still play in a band together to this day. Dave was taking lessons with a great guitarist named Bob Pomicter in Hackettstown New Jersey and he saw getting pretty good. When we would get together and jam Dave would play the most amazing solos. I asked how I could do that and he would simply reply practice your scales. All I knew back then was the pentatonic scale but I would practice every day. Dave was studying classical guitar and learning to read music so he learned more songs and understood things about music that I just couldn't get. He eventually began to pass along the things he learned.
I remember the day Dave came to my house with a recording of Andres Segovia and made me listen to it. I was impressed and I told him, "These guys are pretty good." Dave informed me that it was one man with an acoustic guitar! I was knocked out! I really wanted to learn to play like that but there was not much money in my home back then so I couldn't take lessons. I found a book in a local music store. It was Mel Bay's Classic Guitar Method Volume 1. It came with a cassette tape with recorded examples of all the exercises. That's how I really learned to play. When Dave came over I would play for him and he would offer advice where appropriate. I guess you could say he was my first classical guitar teacher. It's amazing, I am still learning from him today.
When I was eighteen I had some money in my pocket so I went to visit Bob Pomicter and my guitar journey continued. I learned a lot from Bob, especially about scales and improvising. Years later Bob helped my get through the audition at The College of New Jersey. That is where I met Dr. James Day and began to get serious about classic guitar. I also quit my factory job and became a guitar teacher full time. That was in January of 2000. I have been teaching ever since. It has been an amazing journey so far. These days I keep pretty busy teaching private guitar, general music, band, and chorus at a public school. I also play classic guitar at weddings, art galleries, and corporate functions. I play in an acoustic duo, a country band and of course the Dave Read Band. I have been blessed to be able to share my love of music with many people throughout the years and now I am sharing my rock band experiences with my students at HAA. Life is good today!
Schedule a Trial Guitar Lesson with Robin at no cost to you!
Robin Stone, Guitar Teacher