I spend a lot of time awake late into the night, as my jobs as a drum teacher and professional musician usually don't require me to wake up too early in the morning. Recently, I was watching Late Night with Jimmy Fallon, which I watch from to time to time mostly with hopes that the show will feature the great house band, Philadelphia's own The Roots. Their music is always soulful and impeccably executed and drummer Ahmir "Questlove" Thompson has been a great inspiration to me.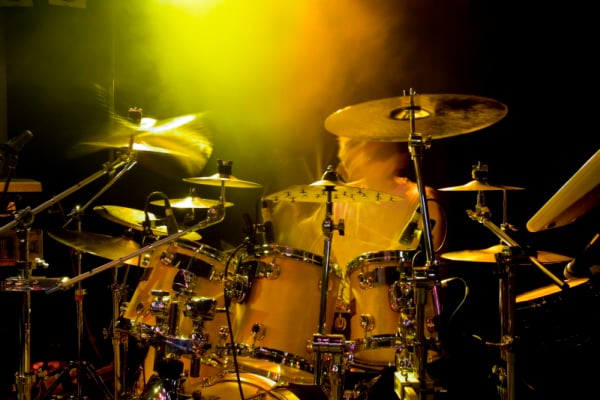 On this particular episode, actress Kate Walsh was a featured guest, talking about her shows, promoting a new fragrance--does everyone have one of those now?--and participating in the usual antics of late night television. Within the first thirty seconds of her discussion with Fallon, they came to the topic of her recent enrollment in drum lessons.
Walsh mentions that she recently started taking drum lessons after feeling inspired by her abilities on the video game Rock Band. She goes on to say that after receiving a drumset as a Christmas gift and being convinced to "take it to the next level" by her brother, she decided to seek out a drum teacher. However, her search did not bring her to an instructor easily due to her age and beginner ability level, as most teachers are used to teaching kids. Eventually she found a teacher, who it turns out is the teacher of her friend's kids.
As I was watching this, the teacher in me was thinking, "How odd. Why would any teacher have an aversion towards teaching any student, regardless of age or ability level?" As musicians, we are all students of music for life. A beginner student who is not a kid is perhaps not the norm, but if there is any underlying message here, it's that you are never too old to learn something new. Musical interests should never be discouraged, especially in a time when the many distractions in the world often deplete the due appreciation that many talented musicians deserve. The more people we have understand music at a deeper level the better. Playing a musical instrument is such a fulfilling experience. After all, the reason why I teach the drums is to pass on my passion for the instrument and music in general to a student who has a comparable desire to learn.
Finally, I must address another interesting aspect of this discussion, which is that Walsh was driven to explore her musical interests after being introduced to drumming by Rock Band. I cannot tell you how many students I have had come to me as beginners who spoke the same words. It is all the more common everyday with technology ruling our world. So, I must ask, "is this good or bad?" I am no advocate of video games. I never played them. My parents decided to buy me new drum gear for holidays and birthdays, rather than the latest console and games. It is hard to say what kind of effect games such as Rock Band will have on the next generation of aspiring musicians. If any of the controller instruments are most like their actual instrument counterpart, it is clearly the drums.
Still, I don't know where I stand on this. Though I feel video games generally have an adverse affect on America's youth, I do appreciate that any avenue that leads a child (or adult for that matter) to a musical instrument is valid enough. I guess the point of a blog is to provoke some type of discussion. This subject is something that I feel is becoming a hot topic amongst educators, parents, and kids. I look forward to having this discussion with anyone interested, and if there is not some type of formal study done on its pros and cons already, I would imagine it is coming soon.
Let me know how you feel about these issues, by responding in the "Comments" field below. Thanks!
Dave Cifelli teaches drums at Hunterdon Academy of the Arts in Flemington, NJ