Piano Lessons in NJ: Flemington and Leb

anon
Would you like to learn how to play the piano or keyboard? Study with some of the best piano teachers in New Jersey right here in Flemington and Lebanon!
Hunterdon Academy of the Arts has been become the County's go-to place for Piano Lessons. We offer a Piano staff of over 10 Professional Teachers to provide you with plenty of options.
Piano Lessons for All Ages and Levels
We teach piano and keyboard lessons for students of all ages and abilities. This includes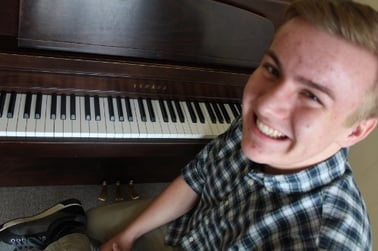 piano lessons for kids, adult piano lessons, piano lessons for beginners, or advanced piano lessons.
Private piano and keyboard lessons are available in 15-minute, 30-minute, 45-minute, or 60-minute slots. Choose whichever fits you best!
Benefits of Piano and Keyboard Lessons
The many benefits of piano and keyboard lessons go far beyond music training. Find out more about the benefits of playing piano here!
Why start with Piano Lessons?
Find out why the piano is particularly suited for lesson beginners.
Do I Have to Own a Piano?
Piano and Keyboard students should own, or at least have regular access to, a suitable keyboard instrument for weekly practice. Yes, some pianos can be expensive to purchase, but don't despair!
SPECIAL OPPORTUNITY: Through Hunterdon Academy of the Arts, you can rent a brand-new upright piano at very low monthly rates!