A Well-Structured Curriculum with Yearly Assessments
We are very excited to be offering our lesson students the opportunity to experience the great benefits of The Royal Conservatory of Music Certificate Program right here at Hunterdon Academy of the Arts! A Founding School of the RCM Certificate Program, HAA also serves as an NJ Assessment Center for the program, offering lesson students opportunities to have their musical skills assessed by visiting evaluators.
What is The Royal Conservatory of Music (RCM) Certificate Program?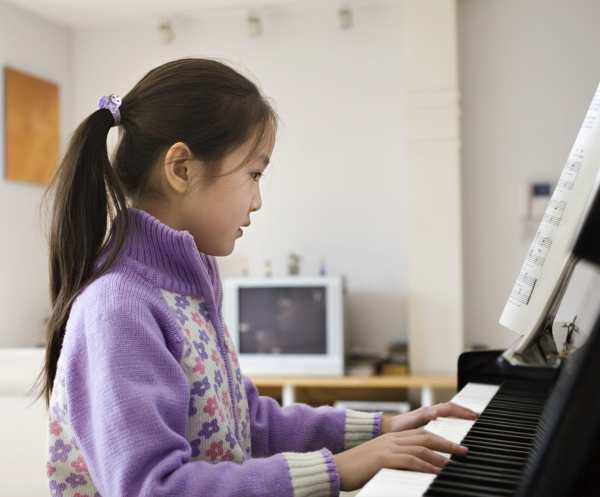 The RCM Certificate Program provides a national standard for musical achievement for people of all ages studying music in the US. It offers a sequential course of study from beginner through advanced levels. Modeled on the acclaimed examination system of The Conservatory in Canada, the program was created in response to feedback from parents and teachers throughout the US, requesting a top-quality nationally-recognized system to track students' musical progress.

The RCM Certificate Program offers periodic assessments for students—one-on-one adjudicator-to-student performance evaluations that also provide valuable teaching and learning opportunities. In each practical assessment, a certified professional adjudicator evaluates a student's performance of repertoire, studies (etudes), and musical proficiency skills. Assessments are offered for a broad variety of instruments, including piano/keyboard, strings, woodwinds, and brass instruments; voice; and the academic subjects of music theory, music history, and pedagogy. Assessments are held several times a year at locations across the US with upcoming dates and registration information listed on The Royal Conservatory Certificate website.
Why Choose The Royal Conservatory of Music Certificate Program?
The Program encompasses four main areas:

Repertoire
Each level includes a broad selection of pieces representing a variety of styles and periods.
Repertoire selections are leveled progressively in difficulty.
Periodic reviews of the repertoire keep the selections fresh and innovative.
Teachers and students can add favorite pieces through the Teacher's Choice and Own Choice selections
Technique
Each level of technique is designed to support the demands of the repertoire for that level.
Technique includes scales, chords, arpeggios, patterns, and études.
Musicianship
A thoughtful and consistent approach to developing reading and aural skills.
Musicianship skills are developed in conjunction with repertoire goals and requirements.
Musicianship skills give students a solid foundation for independent creative musical explorations.
Musical Literacy
The academic components of the Certificate Program include music theoretical and historical subjects.
Theoretical levels are tied to practical (performance) levels, reinforcing concepts encountered in repertoire, technique, and musicianship studies.
At-the-keyboard assessments of keyboard harmony and musicianship present students with an opportunity to develop skills in improvisation and composition.
The Exam Experience
The Program includes two different types of assessment: practical and theoretical. Both create an opportunity to recognize achievement and receive meaningful feedback.


Practical Exams
A practical assessment is a comprehensive evaluation of a student's current abilities on their chosen instrument, including voice. The assessment is designed to be a warm and welcoming experience, one-on-one with a professional, program-certified adjudicator
The adjudicator's comments and marking breakdown are available online within four to six weeks of the assessment
Practical assessments are held twice a year, with all scheduling and location arrangements made by the RC Certificate Program
What Can a Student Expect in a Practical Assessment?
Practical assessments evaluate the following areas of a student's musical development:
Performance of three to five pieces of repertoire depending on level
Performance of one or two études that focus on an aspect of performance skill appropriate for the level
Performance of technical skills such as scales, chords, and arpeggios, which progress in difficulty from level to level in a manner consistent with the technical demands of the repertoire. An assessment includes a representative sampling from the published list of requirements.
An evaluation of musicianship skills, appropriate for the level, through aural identification of intervals, chord qualities, cadences, and ear-to-hand playbacks of rhythms and melodies.
A demonstration of rhythmic reading and sight playing ability further supports music literacy.
Theory Exams
Students complete a written assessment of their theoretical and/or historical knowledge in a classroom setting.
Theory assessments are held twice a year, with all scheduling and location arrangements made by The RC Certificate Program
Recognizing Student Achievement
There are many ways in which students will be recognized for outstanding achievement. These include:
Certificates of Excellence

National Gold Medals
Diplomas
The Associate Diploma (ARCT) and the Licentiate Diploma (LRCM) are the highest academic standings awarded by the RCM Certificate Program. The ARCT is available for Performance (all instruments), Piano Pedagogy and Teacher (non-piano). The LRCM is available for Piano Performance only.
High School Credit!
Many school systems recognize RCM Certificate Program examinations for credit towards secondary school graduation. Please check with your guidance counselor for more information.
We'd love to tell you more about our programs!
Please Send Me More Information!