Every year we ask our families to participate in a brief survey. Though we maintain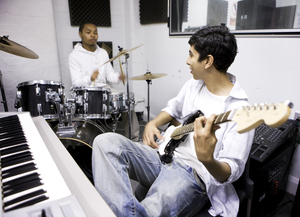 close contact with our teachers, students, and families throughout the year, this survey provides an additional forum for participants to let us know how we are doing as an institution. In our ongoing efforts to improve our programs and meet the needs of our students, we want to find out in which areas changes need to be made, and of course, we also enjoy receiving "pats on the back" and knowing where we have exceeded expectations.

The results of this year's survey are in and as in previous years, have been extremely positive. Judging by the responses, Hunterdon Academy of the Arts is on the right track in so many ways. We are extremely delighted to hear that we have provided our students and families with a music program that many respondents characterized as "far better than other music schools." This is wonderful news indeed! Below are only a few of the glowing testimonials our families shared with us:
"Being a member of HAA has opened many opportunities for us as a family to enjoy music!! Thank you for always finding innovative ways of communicating with families with all current HAA musical events and news."
"Can't think of a way to improve the school!"
"Our class is a big highlight of our week. :-) Thank you."
Musikgarten Educator Ann Engberg ("Mrs. E") is a "wonderful teacher, my child LOVES her. She has a wonderful gift and shares it so expressively!"
Musikgarten Educator Francesca Panfilo-Milza, "Mrs P, is a fabulous teacher! She is energetic and fun and it is evident that the children respond positively to her teaching methods."
Musikgarten Educator Michele Collins is "approachable....Friendly....upbeat....prepared....structured....informative"
"[Our daughter] has learned more with [violin teacher] Dr. Hoffman than with any other teacher."
"Mrs. Peare has been a pleasure throughout our Keyboard Group class years"
"We're very satisfied with Mrs. Schmidt's [piano] teaching methods. She has been flexible when needed, recommending the appropriate grade level for taking the Trinity exam, providing sufficient material for practice and continuing to make lesson and practice time enjoyable. "
"I love the Bel Cantos Program and Mrs. Nagy is an amazing director."
"Not only is [guitar teacher] Laura [Oltman] very talented, but she builds a wonderful rapport with her students. She's warm, patient, supportive, and knows when and how to push without discouraging her students. She's wonderful!"
Of course, there is always room for improvement, so there were a few honest concerns expressed by some of our parents. To find out how we are addressing them, read "'Ins and Outs' of Music Practice: Spring 2010 Survey Results (Part 2)."