What was I influenced by? I have no idea – sure, my father took violin lessons with John Krauss as a junior or senior in high school only because that was when he could afford to buy his own violin – which he still has by the way. His instrument lay dormant on a shelf in a coat closet. I never knew there was one in the house. My mother played clarinet in the Hunterdon Symphony, a much different symphony than the one which exists today. I never heard her play in my formative years. The daily tasks of my father going to school, working, my mother taking care of the house and three active children left very little time to do anything more. Later however, I was fortunate in that they both worked with me at home, including of all things playing trios – 2 violins a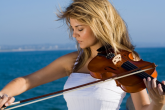 nd clarinet in the back yard. Also, later came the Bernstein's Young Peoples' Concerts with the NY Philharmonic on television – in black and white as color was not affordable yet. Those concerts had a profound impact on my future as a musician! My parents were very supportive in many ways, eg. paying for private lessons ever since my first summer school, at $3.00 per lesson with the principal cellist of New Jersey Symphony, Robert Kelber, who visited Flemington once a week to give lessons. My parents took me to the Clinton Museum once a month to listen to a group of men who would sit down to play string quartets all afternoon, have a covered dish supper and continue playing until well into the evening! One day my father told me to bring my violin! I was scared to death. The men welcomed me to sit in on I believe it was a Beethoven quartet at the moment or perhaps Haydn. They played them all! Well, I lasted about 4 measures before becoming lost and struggling to find my way back. It was an eye opener! I was about 11 at the time!
It was not as intimidating of an experience as it was an honor to be allowed to sit in to play such music I had not experienced before. I kept going back most months with my father and each time I improved. I should mention too that the quartet music was not permitted off the premises. This probably sharpened my sight-reading skills more than anything else! As it turns out, his connection there was with the then owners of the Clinton Museum, the Marsh family. My father was a friend of the son Peter Marsh – they played violin duets as boys, Peter went on to become a professional violinist, playing with the renowned Lenox String Quartet.
While working on my doctorate, I became aquainted with the organ professor who knew Peter Marsh at University of Binghamton, NY where the Quartet was in residence. He informed me that Peter coached several string quartets then sent them out on a local circuit to perform. One of the quartets went "professional". We know them as the Kronos String Quartet. Two other experiences I can remember as a child was having attended a concert at restored Williamsburg, VA. The concert was of the Baroque and I was hooked! I could not sit in my chair, I had to be in front for a close look. A similar experience was a trip to Tanglewood attending a concert with my parents, I decided once again I had to have a close-up look at the orchestra, its players and the music they were playing from. I was also awestruck by the conductor and of course everyone dressed in the summer attire of white jackets. Oh, by the way I learned later the conductor who I watched carefully for a long time was none other than Aaron Copland! I was about 12 at the time.
Now, 48 years since that first summer school experience, I can say I have lived my dream. My life as a musician has been nothing less than dramatic and successful. But not without arduous work and a strong sense of commitment. It is very complete as my experiences as a musician incorporate all aspects of being a musician – performance, education, as is with most. With me it has gone beyond that to include experience as a personnel manager of many orchestras in the area, founding a string quartet as playing chamber music has remained very important to me, founding a chamber orchestra of professional musicians which has had the distinct honor of being the only American professional chamber orchestra to have performed in Spain for the Santander Music Festival in 2000 (you can easily find Newtown Chamber Orchestra on the web) and as an orchestral conductor procuring a Doctorate of Musical Arts in Orchestral Conducting from the American Conservatory of Music.
I encourage all who have read this to define and then live your dream! It's quite a ride!!
Share with our readers your life's dreams, by responding to this blog posting below!
Dr. Russell Hoffmann teaches violin and viola at Hunterdon Academy of the Arts. Request a Trial Lesson with Dr. Hoffmann at no charge to you!