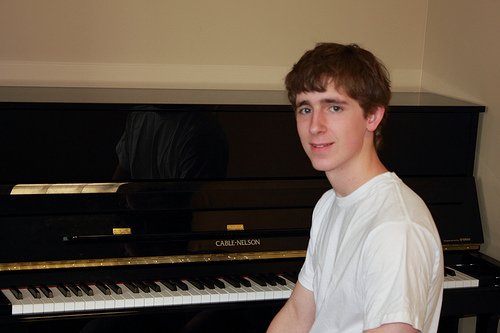 It gives me great pleasure to announce the triumphant news that our piano student Dan Finn has recently been accepted into The University of the Arts in Philadelphia with a scholarship to study piano and jazz. Please join me in congratulating him!
I first met Dan in January 2010 when he joined my piano studio at Hunterdon Academy of the Arts. From our first piano lesson together, I knew Dan had a true passion and talent for music. These traits were demonstrated in every note he played and in every insightful question he posed. Dan had previously been studying with our own Candy Peare and she taught him beautifully! Ms. Peare felt it was time for him to advance into more challenging repertoire. When Dan first joined my studio, he was not sure what he wanted to do in terms of a career path. He said he possibly wanted to audition as a piano major, so I assigned him the necessary repertoire needed to fulfill standard audition requirements. Since we have been working together, he has shown remarkable growth in his ability as a pianist. He successfully met great challenges through his hard work, commitment, and creativity as a piano student. Dan's technique, artistry, and approach to learning and mastering difficult repertoire developed tremendously. I knew that no matter what he was going to study in college, he would carry these invaluable skills with him.
With Dan's magnificent improvement came an even greater eagerness to learn about music. In July of 2010, Daniel attended the High School Piano Camp program at Westminster Choir College in Princeton, New Jersey, under the direction of my own teacher, Professor Ingrid Clarfield. It was evident how well Daniel interacted with peers who had similar musical aspirations. He positively absorbed the new experiences of attending college-level music history and theory/composition lectures in addition to practice and performance assignments. He was a stellar ensemble pianist during the week-long program as well.
One day last fall, Dan came in for a lesson and said, "Rose, I want to study jazz." He proclaimed this so confidently, so I said, "Ok, let's look up schools with jazz programs!" Together we researched schools to apply to and reshaped the audition requirements. I was excited for him but at the same time intimidated because I had absolutely no idea how to teach jazz. I was only able to help him with the classical preparation. I referred him to the talented jazz pianist and teacher, Peter Lauffer. He brought the best out of Dan and helped him prepare for the auditions.
I am thrilled that Dan is inspired to become a music major in piano/jazz studies. I have the highest respect for Dan and I know his success in the classical style of pianism will help him extraordinarily in his jazz endeavors. While Dan is very interested in classical piano, I know his true passion lies in jazz piano and hopefully he can continue to enjoy both simultaneously at University of the Arts. Daniel has marvelous potential and I know he will make a significant difference in the beautiful world of music.
Rose McCathran, Coordinator of Piano Studies, HAA