We're delighted to welcome two new piano teachers to the faculty of Hunterdon Academy of the Arts: Charisse Baldoria and Walter Aparicio. Both join us with stellar professional credentials that include teaching at the college level.
Charisse Boldoria graduated with a Doctor of Musical Arts degree from the University of
Michigan. Dr. Baldoria has won prizes and awards at numerous piano competitions, including Fourth Prize in the San Antonio International Piano Competition (2003); First Prize in the Society for Musical Arts Young Artist Competition in Ann Arbor, and First Prize in the University of Michigan Concerto Competition (2002). She has performed in the United States, the Philippines, and Prague. Before joining Hunterdon Academy of the Arts, she taught at Kutztown University, where she served as Assistant Professor from 2003 through 2011; the University of the Phillipines (2006-2008); Ateneo de Manila University, Phillipines (2006-2007); and the University of Michigan (2000-2003).
Walter Aparicio graduated from Manhattan School of Music with a Master of Music degree. In addition to teaching piano at HAA, he also holds a teaching appointment at New York University. Professor Aparicio made his New York Recital Debut at Weill Hall as part of Artists International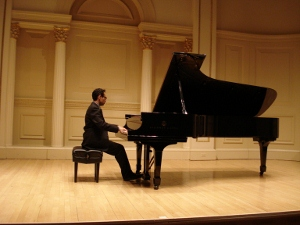 Special Presentation Winners Series and received First Prize in the Bradshaw and Buono International Piano Competition, Duo Division in 2007. He was also First Place Winner in the Empire State Piano Competition- Collegiate Division in 2003. Professor Aparicio has been featured on Vermont Public Radio and on Channel 21-Gigavision in Bolivia. Moreover, he has been affiliated with the World Piano Pedagogy Conference and regularly adjudicates for NYSSMA [New York State School Music Association].
We are thrilled to have Charisse Baldoria and Walter Aparicio join HAA. They will be a great asset to our distinguished faculty, offering an outstanding educational value to you and your children in the program.