This month we interviewed Taylor Halpern, who joined us last year. Her warm personality and multiple musical talents have made her a great choice for students of a variety of musical interests.

You are a versatile musician of many skills and talents. Where do you see your greatest strengths? I would have to say my greatest strengths are within the degree I received- Theory and Composition. Understanding theory of music is so important in order to really grasp what the composer's intentions were when writing the piece. This allows the performer to give the most authentic performance. Understanding details of music also helps writing music to seem less foreign. This is why I stress theory in my students lessons, to make them the best and smartest musicians that they can be.
You occasionally use a stage name--Taylor Ash. What made you decide to use this particular name, and when do you use it? My uncle actually came up with this name at a holiday dinner. It's basically just half of my full name (Taylor Ashley Halpern). I use it when I am performing anywhere that I am playing my own music or need a stage name.
You play the Guitar, Ukulele, and Piano, and you sing! Moreover, you are a successful songwriter. What inspired you to learn all these skills? Music has always spoken to me in a very powerful way. In high school I shied away from becoming a musician and wanted to pursue a career in meteorology. However, in the end my passion for music became too strong and I knew I had to see it through. I had very different inspirations for each of the instruments I've learned. Piano and singing were always second nature to me. I learned guitar when I realized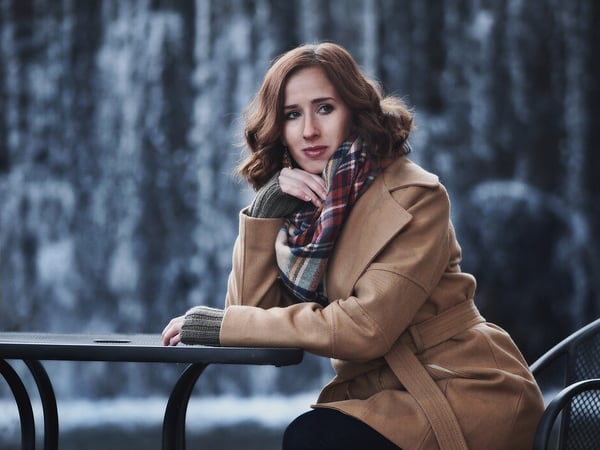 I had a love for folk and bluegrass music and wanted to be able to emulate that style, which was hard on the piano.
Tell us about your songwriting activities. How does a musical idea become a song for you? What is your compositional process? The songwriting process is very different for me depending on the style I am writing. Sometimes, an idea will just pop into my head and I'll write it down. Later I will expand upon it using the techniques of composition that I've acquired in my studies. Sometimes an idea is a complete accidents, I'll just mess up something and there it is! I also tend to write the music first and the lyrics second, because the lyrics tend to grow out of the music rather than vice versa. Contrary to what most people believe, songwriting is not difficult and I try to encourage my students to give it a try!
You are quite successful at teaching your Music Lesson students at HAA. What is your recipe for success as a lesson teacher? As a teacher, I truly believe that music should be something that helps the students relax and have fun. I try to let the students play what they want, and mix in the theory and other more challenging tasks within that. I make sure to listen to the students concerns when they don't like something, or grow bored, and we try to figure out what would make them happier and enjoy music more!
How do you work with students interested in writing their own songs? I have not had too many of my students try their hand at this (though I encourage every one to do so!), but basically I would work with them the same way my teachers worked with me. I would show them my piece, and they would give me hints and ideas to improve upon and make the song as interesting for the listener as possible. There are several easy ways to create diversity within a piece that doesn't change the integrity of what was already written. If I hadn't had any ideas that week, then we would sit and listen to music of the genre and try to get inspiration and write down several small ideas to see if we could expand on one.
How would you characterize the musical style of your own songs, and what artists and role models have been your greatest sources of inspiration? Mostly I am classified as a singer-songwriter (which is technically a genre), but I would consider my music as folk-pop-rock. I have been told my music is a crossover of several styles. Because of the highly narrative nature of my songs, I've also been told that some have some musical theatre influence, which is definitely true. Theatre has been a huge part of my life since I was young. Other artists that have inspired my music are Ingrid Michaelson, Sara Bareilles, Laura Marling, Muse, HAIM, and Brandy Carlisle.
What do you enjoy about being part of the Hunterdon Academy of the Arts community? I love that every day I get to share my passion for music with my students. I love seeing them grow as musicians and accomplish so many wonderful things! My co-workers are absolutely the best, and even though I may only see them for brief moments, I always love to catch up with them! In summary, I love what I do!
Other than music, what are your interests and hobbies? I've kept up with my love of weather, so I love to watch storms. I really love fashion and sewing. I also love to watch hockey, I am a Philadelphia Flyers fan! I enjoy hiking on nice days, as well!