This month we're congratulating two brothers--Luke and Nicky Berardi--for winning the Student of the Month Award! 11-year-old Luke started taking music lessons at HAA when he was 5, and Nicky, who is now 8 years old, started pla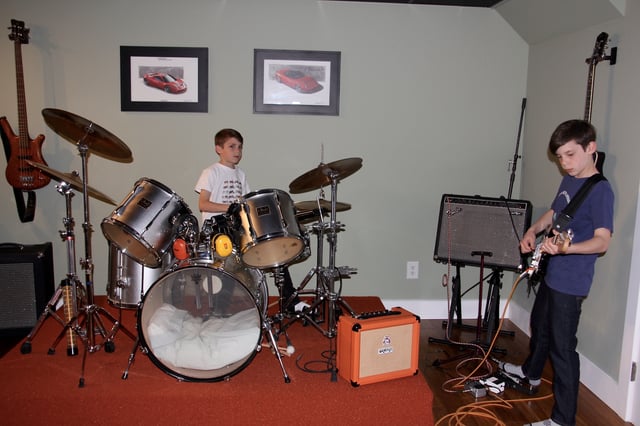 ying at age 4.
You are a musical family. Do you feel that having a shared interest in music makes a difference for a family? We sometimes do play music as a family. We have a drum kit, multiple electric guitars, base guitars, a key board and a baby grand piano. It is fun that we all play music since we push one another to always play better.
Both Nicky and Luke take piano lessons. What do they enjoy most about playing piano, and why did they choose that instrument? Both started on piano. Nicky chose piano due to being inspired by his older brother Luke, but likes playing drums at home. In addition to piano, Luke started guitar lessons with Taylor [Halpern]. At school, he also plays the clarinet.
Luke and Nicky recently performed in the "Children Helping Children" Performathon at Westminster Choir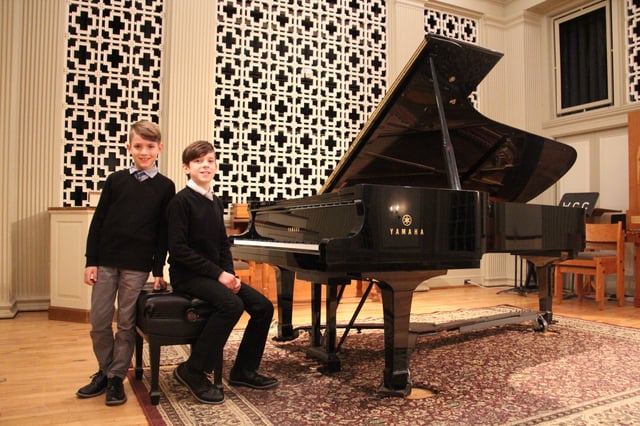 College. What was it like to give back through music? We like to help other children and families in need by playing this event. The piano that we play on is a concert piano, so it is huge. Ms. Teresa [Sygnarska] got us involved in this and we have been doing this for 3 years. It is very similar to our recitals that we have at HAA.
You've been HAA students for a very long time. What do you like about being part of Hunterdon Academy of the Arts? Luke has played for 6 years and Nicky for 4. We like that the teachers are really nice. Taylor, our newest teacher, keeps the lessons fun!
What kind of music do you like to listen to in your free time? We listen to lots of different types of music--Rock, Classical and Jazz--some of our favorite bands are Green Day, Mumford and Sons and Coldplay.
What would you like to do when you grow up? Any plans to study music? Currently, Nicky and Luke both want to be a soccer player. Luke also has an interest in being an architect. Both boys look to always have music in their lives.
Other than playing music, what are your favorite activities? We both play on travel soccer teams. We also play basketball, ride skateboards, ski and bike. Some of our other favorite things to do are draw/paint and ride our ATV's.
What else would you like to share with us? We have a few pets (including fish and a hamster) and just rescued our dog Cooper two months ago. We love to go camping and kayaking with our good friends. Roller coasters are also very fun!