My daughter Emily has been attending Hunterdon Academy of the Arts in Flemington since 2011. She started out in Musikgarten's toddler classes and after a while added Actingarten classes to her HAA activities. After aging out of both programs, Emily signed up for Piano Lessons, Showkids Choir, and Acting Classes. She just can't seem to get enough of HAA!
Over the past six years, I've been proudly watching Emily develop her music and acting skills and in the process becoming more confident at school and other activities. As Emily has achieved performance milestones at HAA, I have been sitting on the sidelines recalling activities I attempted and failed in childhood. One such activity was ballet which I took for 2 months at the age of seven before being permanently dismissed and told to 'find another activity' which I was capable of doing.
That rejection and failure never left me. Nearly two years ago, I heard about a local adult ballet class so I signed up, took a deep inner breath and gave dance a second chance. It was a life changing choice! The teacher, Nancy Dow, welcomed us regardless of our experience or abilities. Not only did I make it past two months, but I performed in a showcase, filmed and produced a 75 minute video documentary about the journey, and am currently embracing a new year of ballet knowing that I am capable of doing more than my teacher from childhood believed was possible.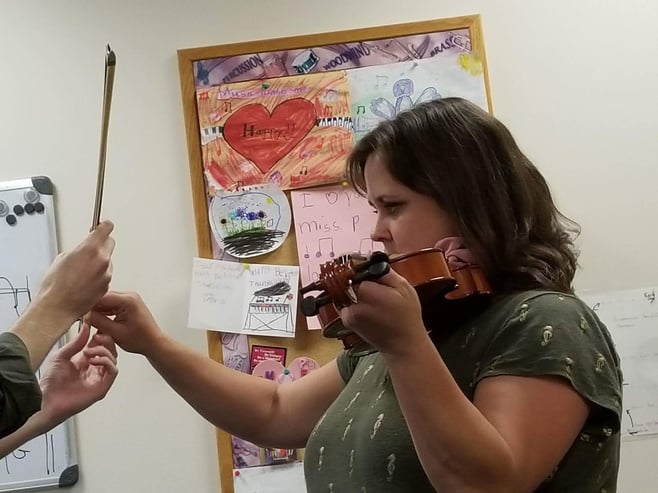 When my birthday rolled around in August, I made a pledge to try something new or revisit something I previously failed at each year for the remainder of my life. I made this declaration on my social media accounts. Many friends told me they were inspired by my journey to revisit and conquer past failures. So many parents spend their days sitting in waiting rooms while their children live life and learn new things. I think it's important for adults to step aside from this sedentary station and take a class or two themselves.
For many years, I have wanted to learn to play the piano. One day while my daughter was in Show Kids Choir, I approached Ruthie and asked if adults take music lessons at HAA. She assured me they do and immediately encouraged me to take a trial class to see if I liked it- you won't know unless you try. I inquired about lesson and teacher availability during the days and times my daughter is at HAA. While I was initially hoping to sign up for piano, Ruthie mentioned that Darryl, the new violin teacher had availability that would work for me. Violin… the instrument I have always loved and revered, but played rather unsuccessfully as a child. Throughout five years of lessons, I was always relegated to second violin, seated so far in the rear of the orchestra that I saw more of the backside of the stage curtain than the audience during school performances. However, the idea of working Darryl was very appealing given the numerous times I heard his violin and viola playing wafting into the waiting room. I was so impressed by his skill as a musician and his calm, friendly personality that I decided to give violin a second chance, much in the same way I had given ballet a second chance. Ruthie, being the sensitive and encouraging person she is, completely reassured and encouraged me to do a trial class the following week.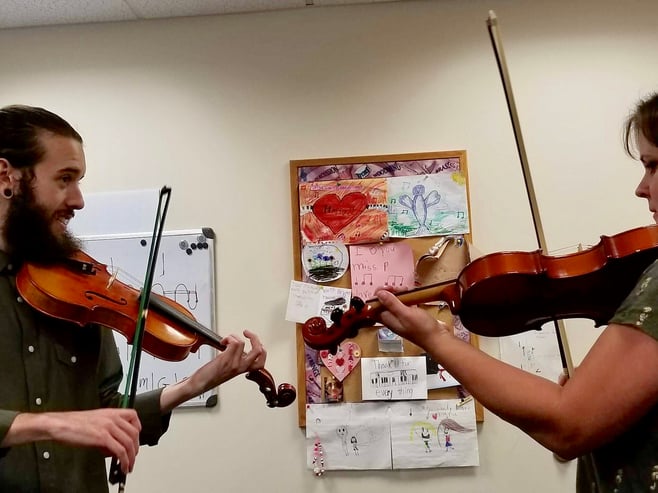 I would love to say that I was nothing but excited and confident in the week leading up to my trial, but I was beset with nerves. All I could think about was how poorly I played the violin as a child. I even had a conversation with a close friend, James Goodwin, who happens to be a strings teacher and a professional bassist. I was hoping he would talk me out of taking the trial by telling me it was silly for an adult to take lessons after so many years. Instead, he not only told me how good it would be for me to pick up the violin again but he promised to help me get my long dormant violin lesson-ready. So, it seemed that violin lessons were meant to be.
The day of my trial arrived. As soon as I walked into the classroom I explained my apprehension to Darryl. He completely put me at ease with his reassurance and gently approach to the lesson. He is so patient and encouraging. Darryl's responsiveness to my musical interests led him to recommend that I listen to a recomposed version of Vivaldi's Four Seasons for homework. Having a teacher introduces me to music and techniques I could not discover on my own. I am so thankful that Darryl was free to take me on as a student at a time that works for me while my daughter is in choir. I am continually blown away by the quality and skill of the instructors at HAA.
After my trial class, I stopped by the office and signed up for weekly lessons. It's going to be an investment of time and money, but I know it will be worth it on many levels. I am very excited to have violin back in my life and can't wait to learn and improve. I have already started a daily practice regimen and find playing the violin to be stimulating physically, intellectually and artistically. Taking lessons is also enhancing my daughter's musical experience. Seeing me practice encourages her to practice. She was so excited the first time she heard me practicing scales that she applauded heartily. What encouragement! I think she has learned some of that from her time at HAA.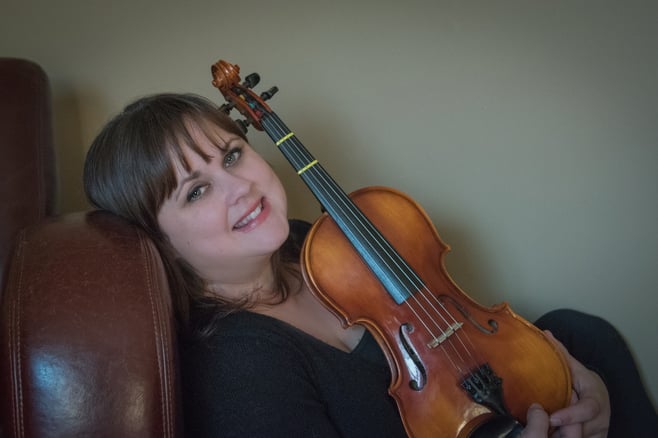 I believe it's important to embrace our interests and dreams in spite of past failures or discouraging statements by others. Along the way, we will inspire others by sharing the various contours of our journey with them. While the ballet school of my childhood saw me as a cog in their elite machine, schools like HAA seek to unlock the beauty and potential of each student in a non-competitive, ever encouraging atmosphere. They do this by consistently hiring kind, patient, and skilled teachers. One thing I have always felt at HAA is acceptance. It's a place for creative people to be themselves while growing and developing as actors and musicians. This is so important in a society that is rapidly devaluing the arts. As the bearer of a BFA in Visual Art, I cannot imagine a landscape without artists, musicians, actors, dancers, poets… creative people who add limitless layers of beauty through their interpretation and expressions of life. And in order to keep this happening, we must make face our fears and past failures, pick up something new (or old) and believe that learning is a lifelong journey.