This month we're excited to showcase Emily Gouse, who takes Piano Lessons and participates in HAA's popular ActinGarten program. With just a bit of help from her Mom, Emily gave some wonderful answers to questions we asked her:

How old are you, and when did you first join Hunterdon Academy of the Arts? Emily Gouse is 6. She started Musikgarten in Dec. 2011 when she was 19 months old.
Who are your HAA teachers? She had 5 wonderful years with Mrs. E as her teacher for Musikgarten. For the past year, she has had the terrific Miss Jen for ActinGarten and will continue the program in the fall (and hopefully summer). She just started Piano lessons with the talented Mr Joel and will also have him as a teacher for Show Kids Choir in the fall.
What did you like about your Musikgarten classes? I like when I am learning about the music notes. Mrs. E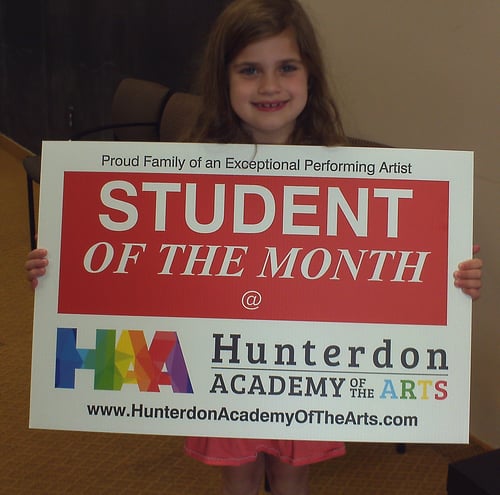 was a fun teacher. I also like to play instruments and perform in ensembles. The Musikgarten CD was nice to listen to. This year we learned about music from different countries and Mrs. E sometimes made us food to go along with the countries- shortbread from the British Isles was the best. Sometimes the parents performed dances with us. That was fun too.
What do you like about your ActinGarten class? I like when we act out stories. My favorite was when we acted out Peter Pan. One week I got to play Wendy and the next week I got to play Peter Pan. It was fun getting to play different characters from the same story. I liked miss Jen because she made the class so much fun. Another thing I enjoyed was learning how to bow and understanding the difference between upstage and downstage. Miss Jen gave us stamps at the end of class. I liked that part too.
Emily, you just started taking piano lessons, too. Why did you choose piano? What's so special about it? :-) I chose piano because it sounded fun when Mrs. E told me about it. I also want to learn how to play the violin and guitar but I have to learn how to play the piano first. One reason I wanted to play the piano is because I like the sound. So far, piano is a great instrument to learn. Some of the things Mrs. E taught me in Musikgarten are the same like note heads and the way music looks on the page. Mr. Joel makes learning really fun. I have homework to practice so that I can get good at playing.
Question for Emily's Mom, Jenny: your family seems to find performing arts education to be very important. In what way do you believe Emily has benefited from taking these classes? In so many ways! However, I especially see that her confidence to perform both in ensemble work and individually has really blossomed. Her ability to really 'hear' has been nurtured. It's common for her to pause while playing outside to listen to birds and leaves rustling- quiet and subtle things that you have to pay attention to. In addition, when listening to music she can identify when an instrument or vocalist is playing or singing louder or softer and she can match that with her voice. Musikgarten has made her much more aware of the world around her. Recently, Miss Jen told me that Emily immediately recognized the score to Pocahontas playing in the background during acting class- another example of having trained ears. She has also learned the importance of each person's part in group performance by performing ensemble pieces in Musikgarten and through group story-telling in ActinGarten. I like that she is learning that each person contributes something of value to the whole. It's wonderful that Emily is exposed to a wide variety of musical styles, instruments and acting approaches. This past weekend, we saw a live musical. Before the performance, Emily looked into the orchestra pit and named each section and identified most of the instruments. That would not have been possible without her musical training at HAA.
You've been with us for quite a few years. What do you like about being part of Hunterdon Academy of the Arts? I have found HAA to be extremely welcoming, supportive and inspiring. It is a safe, non-competative and encouraging place for my child to grow musically and theatrically. I also like the variety of programs offered and that each class is truly age-appropriate- we are especially happy for HAA's addition of ActinGarten this past year.
What kind of music does Emily like to listen to in her free time? Emily loves musical soundtracks from Broadway shows like Peter Pan. She also enjoys listening to last year's Vacation Bible School cd, Sofia the First soundtrack, and the Musikgarten CD of the quarter. She always sings along even if it is an instrumental.
Emily, what would you like to be when you grow up? A vet, an actress and a singer.
Other than music and acting, what are your favorite activities? Lyrical dance class, swimming class, running in the yard with my friends and school.
What else would you like to tell us about yourself? I like to write and illustrate books and act out my favorite movies like Peter Pan Live, Narnia, Cinderella and Tangled. I set up all of my character's props before starting and then act out the stories. And I like to act out my favorite books. I also like to sing and make up my own songs. I have a pet cat named Gus. He is an orange tabby and I have a hermit crab named Heart. She wears a purple shell with a Shamrock. I enjoy reading books. My friends are very special to me and I enjoy doing fun things with them on the weekends like going to the zoo, farm and the beach. My dream is to have a pet horse and to be able to play the piano for it.