In December, we're congratulating Piano Instructor Naoko Zhezha on receiving the Faculty of the Month Award! Naoko has been on our Piano Faculty for several years and has done such outstanding work with her students that most of the time she's completely booked! We asked her a few questions about her interesting musical background, and here's what we foudn out:
Tell us about your work at Hunterdon Academy of the Arts! I joined the Hunterdon Academy of the Arts as a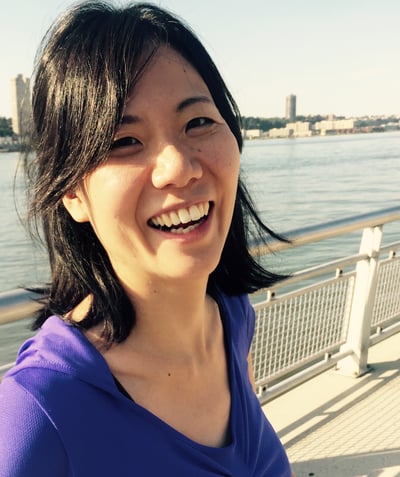 piano faculty in 2011. HAA is a unique institution that offers a variety of classes and activities: music lessons, choir, acting, Musikgarten, jam sessions, online classes, and more. Being a part of HAA has been an exciting and innovative experience for me. In my opinion, it always takes a while to build your own studio. However, if you are patient, steady and try to work towards your goal and students' goals, there will be a good result. Luckily, I have many hard working students who have been returning and achieving their musical goals over time. Often times I ask my students, "what do you want to learn? What genres of music do you want to learn?" Some students have very specific answers to this and say, for example, "I want to learn 'a minute waltz' by Chopin." Other students have a very broad interest about what they want to play. This is where I come in and guide them in choosing music that best suits their taste and helps them explore their creativity in learning music. It is important that students stay curious by learning what interests them.
You have an interesting musical background, having received your professional training at some distinguished music conservatories in the U.S. Tell us about your studies in the U.S. Having grown up in Japan, what was the biggest difference in music studies between Japan and the United States? When I was 16 years old, I left home to attend Interlochen Arts Academy, which is a boarding high school in Traverse City, Michigan. Because of many students from all over the country and world studying music, dance, creative writing, and visual arts, the environment was very inspiring to learn and grow. My first impression of piano lesson by my teacher at Interlochen was friendly, positive, and encouraging. That is always my goal for students to feel the same way. I had a few very tough piano teachers back in Japan. I often was in tears after the lessons. However, because I liked music and playing the piano, I was determined to continue playing the piano with the support of my parents as well.
After graduating from Interlochen Arts Academy, I went to the Cleveland institute of Music (OH) where I earned my Bachelors of Music in piano performance. Then, on the advice of my former teacher, I continued to pursue a Master's degree in piano performance at Western Michigan University where I was under full scholarship and taught college-level music courses. Here, I was exposed to playing more collaborative works: opera accompanying, choir accompanying, chamber music, orchestra reading, duets, etc. I became more and more interested in the collaborative field. This experience I gained led me to pursue my second Master's degree in collaborative piano at Rutgers. This field requires a tremendous knowledge of different vocal types, instruments and ensemble skills. Collaborative pianists have a dual role where they always make sure that the soloists feel at ease to perform and make them shine without covering their sound.

What are your favorite musical styles? I like playing and listening to music by Beethoven, Brahms, Chopin and Rachmaninov. Being married to a violinist (HAA instructor Mialtin Zhezha), I do listen to a great deal of violin music everyday!

Any professional projects--performance, recordings, etc. on the horizon? What is on your "musical bucket list"? Recently, I started organizing a few events/concerts with my colleague in New York City. It has been always my dream to host musicians who belong on stage and deserve more live performance opportunities. It is a slight change of pace for me to manage the musicians rather than performing with them, but I truly enjoy the process of it. My husband Mialtin and I give several duo recitals a year and we try to play a different program every time. Expanding my violin and viola repertoire is always my project all year around.