In February, the Faculty of the Month Award goes to Dragana Cotra Reljin, one of our very successful piano teachers! Like a number of other HAA instructors, Dragana received her professional training abroad and thus brings a unique perspective to her teaching activities. Find out what she shared with us below:
What do you teach at Hunterdon Academy of the Arts, and what is your educational philosophy? I teach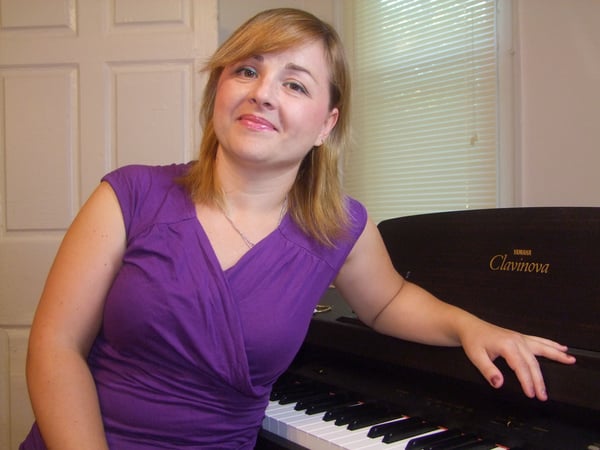 Piano, as well as group keyboard classes as part of Music Makers. Along with teaching students important elements of piano playing and technique and music theory, I always like to think of each student as a unique musician. Therefore, I have a personalized approach for my students, respecting their differences, opinions and wishes. My ultimate goal is to develop love and passion for music in them. At the end of the day and class, I would like to think that they have made at least a small music discovery they will take home and enjoy it!

Tell us more about your HAA students. What do you enjoy most about working with them? At HAA, all of my students are remarkable talents of very different personalities. That makes my job interesting and fun. Also, I am so happy to see that most of them have very clear idea what kind of music they would like to play and what are their goals. That helps me think more about their performance and helps in selecting an appropriate repertoire.

What do you like about being part of Hunterdon Academy of the Arts? I'm enjoying the very friendly atmosphere at HAA, along with high quality of professionalism. I am truly blessed to be surrounded with such talents and great colleagues.

You received your professional training abroad. What was that like? I got my Bachelor's Degree in classical piano pedagogy and performance from Music Academy of Belgrade, Serbia. It was a very rigorous program full of music subjects focusing on classical repertoire. In addition to these subjects I had music pedagogy, psychology and methodology of piano teaching that helped me in my current piano teaching career.

How did you adjust to teaching in the United States? Luckily, my transition to the United States went smoothly.
In Serbia, you can get piano lessons in music public schools which follow a very rigorous and rigid curriculum with mandatory exams at the end of each year. Unfortunately, a lot of students are not able to follow those requirements or they are having a hard time doing so. Eventually, some of the students get frustrated and often give up piano. I was very happy to discover it is much different here in the United States. Students are able to follow their own path and pace, thus discovering different musical stiles and performances.

What are your favorite musical styles? My favorite music style was and always will be classical music - with an emphasis on romanticism. I am also found of rock and some movie music.

What advice do you have for aspiring young musicians? Dear students, play as many pieces as possible! :) Try different styles, explore, endure even when it is hard. And what is most important - never forget to enjoy music.

Any professional projects--performance, recordings, etc., on the horizon? What is your "musical bucket list"? Besides preparing for my private studio recital, I am preparing my students at HAA for the recital that is coming up on January 24th 2016. We hope to see many family members and friends there! Personally, I wish to join a chamber ensemble and start performing again. New Year's resolution?

What else would you like to share with our readers? Hobbies, other interests? I like to spend my free time with my family as much as possible - with my husband and two lovely daughters. I like to travel, go hiking and explore the nature. This summer I have plans to visit Yellowstone.