This month we're congratulating Piano Instructor Kristen Todd on having received HAA's Teacher of the Month Award! Kristen has been with us for several years and proven to be a great Piano Lesson Teacher. In the excellent interview we had with her (see below), Kristen talks about her love of the piano and her passion for music and teaching, among other topics. Enjoy!
When did you start playing piano and what made you fall in love with it? I started playing piano at the ripe old age of 9 (relative to many children who now start at the age of 4 or 5). Believe it or not, I really disliked practicing and my piano teacher was extremely patient with me for the first few years of lessons. Then, in about 7th and 8th grade, I played a few pieces by Johann Burgmuller, and I absolutely LOVED playing them. I became much more willing to practice after having played "real" literature and learning that I could challenge myself to longer and more difficult repertoire. My wonderful and patient teacher nurtured me and gave me as many opportunities to perform for others as she could (this included playing at nursing homes, church services, as well as local competitions and recitals). I am so grateful to her for nurturing me as a piano student, but more importantly, nurturing me as a growing human-being and being aware of all my other interests such as marching band, 4-H, working on the farm, and my school's Academic Challenge team.
You have a Master's Degree in piano pedagogy, so you have many years of studies under your belt. What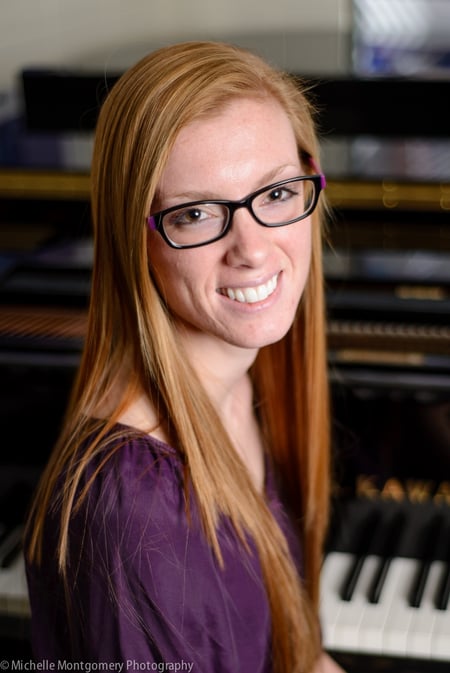 would be the one (most important) thing you learned from your students, though, and not from your professors? Ah, excellent question, and I'm so glad you asked it, because I think that this is one of the most important ideas in my teaching philosophy. I continue to learn things from my piano lesson students every single day, whether small or big, music-related or non-music related). And each thing that they teach me is so enriching. They might teach me about a rule in the game of baseball, or who has the best record in the NFL, or about geography, or science, or about some new band/artist that they love. Every single one of these is just as important as the other because they teach me about being a multifaceted human being and the power and potential that we as humans have with our interests and love for other subjects and aspects of life. I learn things about learning on a daily basis (how does each student learn, and how can I foster and challenge them in a way that is well-balanced?) And through the students' learning, I also learn about my own learning!
Who is your favorite composer and why? For this one, I couldn't possibly choose a single favorite. Instead, I'd like to say that my favorite thing to do is learn about many composers all throughout music history and form a more all-encompassing understanding of the evolution of music. It seems daunting, but I think that's one of the exciting things about being a musician. Learning about composers of the medieval and Renaissance periods are just as important as the Baroque, Classical, Romantic, etc., because this allows one to recognize similarities and differences between eras. For example, I love J.S. Bach: in short, he is a genius and his music touches me on an intellectual, spiritual, and musical level. But I also love bands like the Beatles and Led Zeppelin, and one of my recent favorites are Chris Thile and the Punch Brothers. Chris Thile is a true genius, playing the mandolin, which is well-suited to the bluegrass genre; but he composes extremely interesting, forward-looking music while always having an understanding of the past. Aside from composing new music, a current project of his is learning Partitas and Sonatas for the violin, by J.S. Bach (on the mandolin, of course). His attitude toward music is the epitome of what I wish upon myself, and my students, so I'd highly encourage listening to his music or any video in which he speaks about music. Always be willing to immerse yourself in a composer/artist that deeply interests you (or even one that doesn't interest you, because I promise that you will still learn something from him/her and appreciate music in a different light). BUT also, always be willing to explore and find new composers/artists. Learning about someone new guarantees you to broaden your knowledge of music and styles.
Who is your favorite concert pianist? Again, similarly to my attitude toward my "favorite composer," I couldn't possibly choose only one. There are many greats such as Artur Schnabel, Vladimir Horowitz, Martha Argerich, Glenn Gould, Mitsuko Uchida, Krystian Zimerman, Daniel Barenboim, and I could go on and on as to why I love each of these pianists. But I also love performers such as John Lennon, Paul McCartney, John Paul Jones (from Led Zeppelin), Brad Mehldau (jazz pianist), Ray Manzarek (the Doors), Keith Emerson (Emerson Lake and Palmer), and so many others! Each of these artists has something valuable to offer the realm of keyboard playing, and I think that each must have listened to a ton of music him/herself, and also continually practice and hone their skills to become the creative artist that they were or are.
You are a classically trained pianist, but you also accompanied one of our teacher bands in the past. What was that like? Awesome! Actually, I was in a band in high school, and we played a lot of cover songs of the Beatles, the Rolling Stones, Oasis, Led Zeppelin, Green Day, My Chemical Romance…and the list goes on. So playing in the band at HAA with other teachers was a great chance for me to play like that again! I love playing rock music and it keeps my ears sharp (listening carefully to the others, and also learning songs by ear versus notation), but most importantly because it is so much FUN!
What do you wish for your students in terms of their future in music? I hope that music will always have a part in each student's life, no matter how big or small. No matter what career path you choose, I hope that your appreciation of music will help you to find beauty in all that you do. Perhaps you will choose to be a scientist or a mathematician, but I hope that you will continue to play or listen as it pleases you and enriches your life.
What is the most exciting thing about being a music teacher? Growth: musical growth, intellectual growth, and growth as a well-rounded human being. I love witnessing students of all ages and abilities grow and begin to realize their potential. Along those lines, it's an exciting time when a student has an ambition to learn about something they choose: perhaps he would like to dabble in composing, or perhaps she wants to learn how to read chord symbols and analyze a piece. When a student has these moments of realization, I see them flourish as a result of their own motivation.
What do you enjoy about being part of the Hunterdon Academy of the Arts community? Learning and connecting! Just as I learn from my students, I also learn from others at HAA. Speaking with other teachers, parents, students, and staff about their lives and experiences helps me to feel more connected to others instead of being isolated in some piano room for many hours a day. I also love forming relationships with other teachers and staff who are passionate about music and the arts, and serving the students of the community ☺
Other than music, what are your interests and hobbies? One of the most important things to me, outside of music and learning, is physical fitness. Ever since college, I've loved running and this fall I'm running my first half-marathon! I've also recently become an avid cyclist and love to ride my bike. This summer, I rode my first century (100-mile ride), and also rode throughout Italy for a few weeks, exploring both mountainous and flat territory. Being physically active is something that I enjoy, but also a necessity in life. I find that it helps me to be in a better mood and feel good (which is a positive for me AND my students). I also minored in history in college, and I love always reading and learning about history!