When my son Marc was entering high school, he told me that he wanted to stop playing the clarinet he'd been playing since fourth grade. In high school, committing to certain instruments means committing to Marching Band, which as many of us know requires regular rehearsals, attendance at football games, and attendance at band competitions. At the same time, Marc was enjoying playing recreational soccer on Saturdays, which he would have to give up if he continued
playing the clarinet
. After laying all this out for me, Marc said, "Mom, I want a life."
We see our students and families juggling
music lessons
with sports and other activities, sometimes to our dismay. While we often wish our students would practice more, I know that we all want them to develop a love for music and a love of playing because of the emotional and social benefits that music-making brings. We work hard during our lessons and classes to keep that spark lit and to energize our students to "keep it up" during the week.
In response to parents' concerns about carving out practice time at home, I recently made a practice game for my second-year
Musikgarten Keyboard students
that I think would especially help beginners. There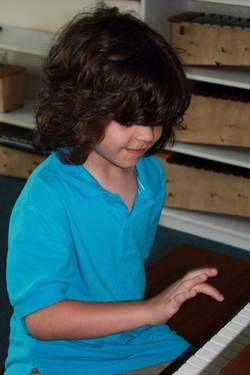 were 7 different parts of the week's assignment -- practicing 3 Major scales up-and-down, reviewing 2 previous songs, adding 1 new song, and completing 1 page in the student book. I divided a sheet of paper into 9 sections and wrote each one of these separate elements in one section of the paper; in the remaining 2 sections, I added a free choice song from each of the two previous Keyboard books. I then copied the sheet for each child, instructing the parents to cut the sections apart and place them in a container at home (plastic pumpkin, plastic bowl, etc.). Each day, the student was to pick two for their practicing, and once the container became empty, the papers were to be put back into the container and repeated during the remainder of the week. Practicing could be done while waiting for the school bus, before dinner, and even before bedtime in manageable segments. By showing the parents how to do this once, I am hoping they will do this with their child in the continuing weeks. For now, it has worked!
And back to Marc...after giving up the clarinet, he enrolled in his high school's guitar program, which involved one period during the school day and two hours every Monday evening. He played in a Guitar Ensemble through high school and still plays for his own enjoyment at the age of 33!