Hearty Congratulations to Mikyla Scott, on receiving this month's Student of the Month Award! In below interview with us, Mikyla talks about the importance of music in her life, and her passion for singing and stage performance.

How old are you, and when did you first join Hunterdon Academy of the Arts? I am 14 years old and I joined the Academy when I was in 5th grade.

Who have been your HAA teachers? My HAA teachers have been Mrs. Nagy, Adam Kishbauch, Gina [DiPalermo], Miss. Amanda [Prakopcyk] for piano, and I was in the younger choir for two years with different directors.

You are a talented singer, you perform a lot in the community and you are also a member of our True Voice Project group. How do you find time for music as a busy high school student? I find music to be a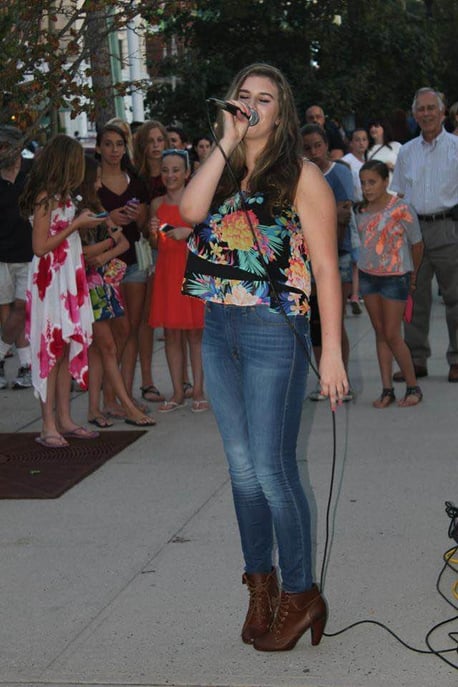 really important part of my life so I make time for it. School work comes first but I always find opportunities to do other music activities outside of school.

You seem to enjoy being on stage. What is it about performing that you like the most? I love to be on stage and just rock out because it gives me this amazing rush of excitement and happiness. I love hearing the sound of people clapping along to the song and the cheers at the end make me so proud.

Do you ever get nervous before a performance? What's your advice on overcoming stage fright? I do get nervous before performing but I'm way more excited so that feeling normally overpowers the nervousness. Some advice I would give to people would be to if u are afraid that you are gonna mess up think about the things that could go wrong and then have a plan for what you would do in that situation. Most of the time we worry about things that probably won't even happen.

How do you feel about songwriting? Any plans to write your own music? When I was younger I wrote songs all the time that when I look at them now I laugh at how silly they are. I have tried writing some music and I have a feeling it's not for me.

You've been with us for many years. What do you like about being part of Hunterdon Academy of the Arts? What I love about being apart of the Academy is the amazing people you meet. It is like a giant family here where I make amazing connections with my teachers and have a whole new set of friends. I also love all the opportunities they give me to perform at new places.

What kind of music do you like to listen to in your free time? I love listening to mostly pop music and some rap. Some of my favorite artists are Beyoncé, Nicki Manaj, Ariana Grande, Hoodie Allen, Drake, Megan Tranoir, and many many more.

What would you like to do after high school? Any plans to study music? I am not exactly sure what I want to study after high school but I know that I want music to still be a part of my life.

Other than music, what are your favorite activities? Other than music I love to hangout with friends and go to the mall and the beach. I love being with friends and they are a very important part of my life.

What else would you like to tell us about yourself? Some goals and dreams I have in my life are to just be going around the world performing and having the time of my life. I have no clue what I really want to do as a career but if I could be anything it would be rocking out in front of everyone in the world helping them to be happy and jam out with me.